This is my collection of personel recorded mp3s that I occationaly get in to my head to post online. If you see any thing you like please feel free to comment on it.
64 Roses (for my mother's grave)
---
lyricist and recording artist unknown.
https://youtu.be/K3_pLZANeKA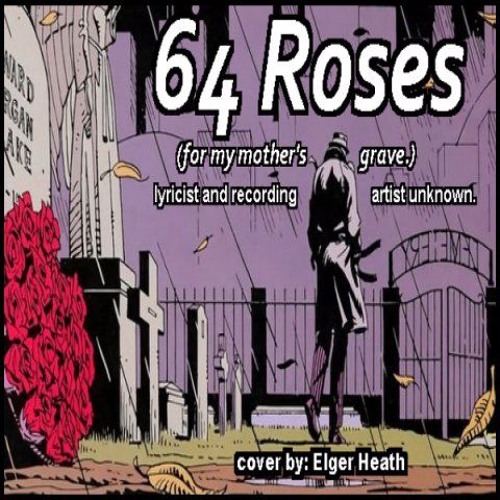 My mother passed away many years back. It happened so suddenly that nobody was prepared and it hit my whole family pretty hard. My father was the stern, tough character of the family and my mother was the one that always bent and gave way for the sake the of others. It's not to say that she wasn't strong, for surely she was that, but when one of the kids was in trouble it was mother that rode in to the rescue. We were all grown up by that time but it was mother that held our large family of ten close. So when she passed on it seemed as if the world had shattered.
When the funeral came, I think that I was in such a state of uncertainty that I could not find the courage to weep. Unsure how to express my feelings of sadness I turned to the music that had always been my strength and at the service I sang a gospel song in her honor. Many of my brother's and sisters thought I was very brave to do this, but, truth be told, I just couldn't think of anything I could say to express my sorrow. Despite my meandering writing style, I'm not a man of many words. I'm a good listener, but a lousy talker.
A funeral song that I didn't do at my mother's service is this piece called '64 Roses'. I came across it a few years later but, upon hearing it, I realized that it expressed my feelings about my mother perfectly. We were a family of ten and my mother did suffer for our many excesses throughout her life, and she never did complain about the hardships. She toughed it out for the sake of her family and, in the end, she died a martyr. Perhaps it was then that I changed the course of my life. Up until then I was more eager to get away from my family as to be part of it. Now, it seems, I try to be the glue that will bond my family together. Strangely, it is as if I have taken up her roll though it was never in my plans to do so. I am constantly reminding my siblings of our past and history in the hopes that this ever fragile group will find it self propelled towards its center rather then each part flinging itself outwards and away from all the others. Does that even make sense? My words seem to fail me once more. This song, however, does not fail to express my feelings for my mother.
I searched high and low for information about who wrote and who recorded this number. My search came up empty. The internet is a vast library of information and somewhere in that monstrosity is this information but, as a friend of mine once said to me, "You can find anything you want to know on the net, providing that you know where the information is and what it is called." If I knew these things, however, I wouldn't have to search for it, would I? That is the ultimate contradiction of the internet. You have all the information in the world and no clue as to how to access the things that you need to know. Anyway, here is my cover of this song called '64 Roses'.
Views
2533
Comments
0
Comments