This is my collection of personel recorded mp3s that I occationaly get in to my head to post online. If you see any thing you like please feel free to comment on it.
Uncle Pen
Posted 04-29-2016 at 06:35 PM by
Bishop
---
written and recorded by Bill Monroe
https://youtu.be/RZo5V_NEh8A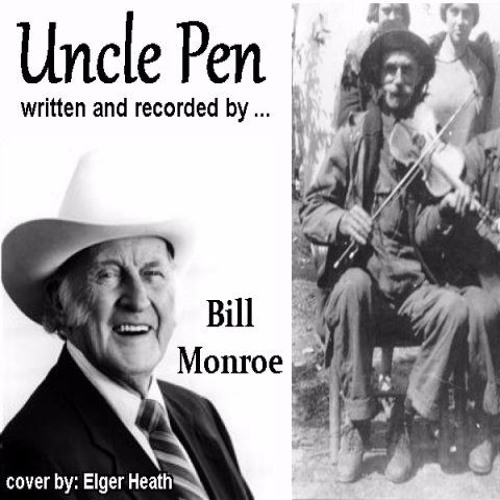 Sometimes I find myself wishing I could play the fiddle. Most of the instrumentals I play on the guitar. (and when I say play I'm being generous), are fiddle tunes. My father was a fiddler and I used to chord for him. Thus old fiddle tunes reside deep in my brain. Still I am not a fiddle player like my dad and the best I can do is emulate the fiddle with an old six-string.
I recall hearing Ricky Skaggs play 'Uncle Pen' over the radio in the 80's and I fell for this tune, line hook and sinker. I didn't know, at the time, that it went all the way back to Bill Monroe. Bill not only recorded it but wrote it as well. It is about his real Uncle Pen, who was a fairly good fiddle player in Bill's youth and quite an influence on the young, would be music star. I tend to do songs slightly slower then they were originally recorded. I don't really think that they loose all that much with a little less speed and it gives folks more time to listen to the lyrics. Oh yeh... and I'm not a very good musician.
Well that being said, here is my cover of an old Bill Monroe number called 'Uncle Pen'.
Views
2442
Comments
0
Comments