This is my collection of personel recorded mp3s that I occationaly get in to my head to post online. If you see any thing you like please feel free to comment on it.
Heroes And Friends
---
written by Randy Travis and Don Schlitz
recorded by Randy Travis, (January 1991)
https://youtu.be/cKEEpeSU1vY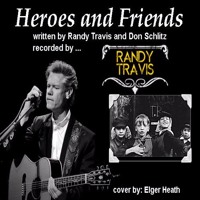 Randy Travis is known for his deep resonating voice and intimate lyrics. A ballad singer to the core. It's not that he never records rock songs but ballads are what he excels at and boy do I love ballads. In 1991, he recorded a tune that he and Don Schlitz co-wrote called, 'Heroes and Friends'. It's not a complicated song, nor a long one, but it cuts straight to the core of the feelings of friendship and hero worship. These are for most of us, whether we realize it or not, the touchstones of our memories and history. This song is quiet and under stated but, at the same time, jars those memories to the surface in such away that it can not help but rank among-st the tunes that I carry with me where ever I go.
I offer up my cover of the Randy Travis number, 'Heroes and Friends'. May your heroes live on forever and your friends always be in your heart.
Views
1950
Comments
0
Comments